INTERVIEW WITH EUGENE KONASHENKO
For your attention herewith is an interview the author took from a Russian Australian, a retired RAAF officer and Vietnam veteran Eugene Konashenko. He lives in Sydney and still speaks and writes excellent Russian.
Tell us about yourself, where you were born, how you came to Australia, how you became an officer?
I was born in Harbin, China, 9.7.1920 of Russian parentage. My father had served as a Russian Army officer in the machine-gun corps and, since he was proficient in Morse code, he was also put in charge of the signal detachment. After the revolution my parent emigrated from Russia and met in Harbin, where they married in 1918. In 1925 my family moved to Mukden, and in 1930 – to Shanghai. I attended the French "College Ste Jeanne D'Arc" till 1937. I then went to the "French Municipal College" for a couple of years and then to the French "Aurora" University. I graduated in 1945 with the degree in Law and economics. Things were a bit tough in Shanghai at the time: food was very scarce and it was bitterly cold in winter without any heating at all.
For a while for the United States Air Transport Command as Kiangwan Airport and then in the city for "Messageries Maritimes and Air France". I married Julie Vertoprakhov on 3.10.1948. At the time a Civil War was raging in China, and the oncoming communist victory was obvious. We were afraid of getting under the Chinese communist power and towards the end of that year we were evacuated by air to an American Amy camp in Japan not far from Tokyo. About 100 Russians were evacuated on to aircraft, and 50 more refugees of other nationalities – Lithuanians, Lets, Estonians, Hungarians, Romanians, Tartars on another one. General MacArthur convinced the Philippines Government to allocate all the refugees fleeing China on one of the islands. Thus from Japan we were flown o the island of Tubabao. There I was the legal Assistant to the Arbitration Board. I met up and became very friendly with the Australian Migrant Selection Team, who convinced me that Aussie land was an ideal place for us and all our relatives.
We came by boat to Sydney on 9th October 1949 and were sent by train to Bathurst Migrant Staging Center. Then to Wallgrove Migrant Camp in Sydney where we stayed only for a few weeks until such time as we were allocated jobs by the Government. At first, I worked as a process worker in a chemical factory manufacturing rabbit poison. Julie was given an office job in Silknit factory opposite central Railway station. I soon changed my job, and went to work as a storeman for the department of Works and Housing. (I could not practice Law out here because my degree was French).
I was always interested in the military and for a while was in liaison with the Army intelligence on the linguistic side. Late in April 1955 I saw in a newspaper the RAAF equipment Officers advertisement. My wife immediately told me to apply and I submitted my application. Several weeks later, I was notified by the Air Force to undergo certain tests including a thorough medical check-up.
Apparently 60 candidates applied from the Sydney area but after the tests and the screening process, only 12 were instructed to appear before the RAAF selection board. The RAAF Selection Board consisted of 5 senior officers who examined whatever documents you presented. The Chairman studied my 235 page University Thesis on "Chinese Turkestan". Obviously he knew the French language. He then asked me a question for which I wasn't prepared: "What are your reasons for wanting to join the RAAF?". Quik as a flash, I gave the following 3 reasons:
Being a migrant, it would be an excellent opportunity to sped up the process of assimilation.
Since I am a University graduate, I can better myself socially.
I would like my grandchildren to proudly state that their grandfather was an RAAF ex serviceman and perhaps even a war veteran.
Strangely enough, I wasn't nervous during the interview. I had a satisfied feeling that I had scored right between the goal posts and obviously I did because about 15 years later a very senior officer who was in Canberra Headquarters in 1955 told me that the Selection Board marked my file as "Specially recommended" and, finally, only two men were accepted.

Several weeks later I received notification to report to Base Squadron, RAAF Base Richmond for kitting out purposes and to proceed on a certain day to the Officer's Training School at RAAF Rathmines to undergo N15 Officers' Initial Training Course. The ex air-gunner and I shared the same room in the officers' quarters whilst in Richmond. Once we got our uniforms, he had half a wing insignia on his chest indicating that he was ex aircrew with 4 war ribbons.

At Rathmines, when the results of the first examinations were posted on the board, I didn't have to raise my head because my name was somewhere down below. However, gradually wit the assistance from other officers and especially the ones who came up from the ranks, also with the help of evening group studies, my marks improved immensely, so that towards the end of the course, I had to look real high since many a time, I used to be in the 3rd or 4th places. I graduated on the 8th of December 1955 and was temporarily posted to N2 Stores depot RAAF Regents park Sydney. As soon as I arrived, I was immediately sent to RAAF Dubbo to defend an airman at a Court Martial which I'll admit, I defended very the airman very successfully even though he was charged for 5 different offences. The Court found him Not Guilty on 4 counts, we pleaded "guilty" only on one count.

In 1956 I met up with my air-gunner mate at RAAF Laverton Melbourne where we completed the Equipment Course. From Melbourne my mate and I were sent to RAAF Richmond Base Squadron, he as catering officer, myself as Stock Control, procurement and Warehousing officer. Then I was posted to N38 Squadron where I was appointed as a Chief Instructor of Air Movements and training Flight just before the Hercules aircraft were purchased. We trained Air Force and Army personnel of all ranks the loading techniques of Hercules a/c including air supply dropping. We also flew to various Air Forces and Army bases in Malaya, New Guinea, Adelaide, Brisbane, Townsville and Perth to demonstrate the capabilities of Hercules a/c.

During that period I qualified as Russian Interpreter at the School of Languages RAAF Point Cook. In 1961 I was posted to Melbourne as Air Supply Representative with the Dept of Supply. In the meantime, I was seconded in 1962 to the School of languages RAAF as part time instructor of French to Air Force personnel who were about to pick up Mirage aircraft.

In 1965-68 I served in Sydney again, and in April 1968 I was posted to Vietnam N9 RAAF Helicopter "gun-ship" squadron as Equipment Officer I served in Vietnam for a year and in 1973 retired from RAAF.

On this occasion I received from the RAAF Vice-Marshal Jordan a letter which contained the following words: "…During your many appointments the quality of your service was marked by your dedication, sound professional knowledge and fine personal attribute; you set an excellent example and gained the respect of all with whom you served… Your wide experience was an asset which you used most effectively in that demanding appointment and was reflected by the high standard of proficiency that you maintained."

What was your perception of the Vietnam conflict at that time? Was it influenced by the fact that the USSR was backing the Vietnamese partisans?

Answering the second question straightaway, I will say: absolutely not at all. Since I am an ardent anticommunist , and since I was in the RAAF, I was most eager to volunteer to go to Vietnam, knowing very well who was the real enemy behind it all. What was the use of being in the Military Forces and not going to war? I missed out going to Korea because I wasn't naturalized at the time and I wasn't in the Military Forces then. This time, I made sure that I would fulfil my ambition and at the same time do my duty and show my gratitude to my adopted country by serving in a war zone as an Aussie albeit an ex refugee.

Is your view of this war different now?

Absolutely not at all.

In our time the legacy of this war is being reviewed. Many people write, that America (and Australia) lost the war at home to the public opinion, not to the Vietnamese on the battlefield. What can you say about it?

We are all entitled to our own opinions. Some people were too scared to go to war, some were narrow mined, others were stirred up by the communists and many just followed the mob (like sheep) just for the sake of "rocking the boat". Many were hired professional trouble makers – on TV, the same ugly faces appear at all sorts of different types of demonstrations.

At the time, it was necessary to participate in that war. "You win some, you lose some." We gained experience and maturity. The present events proved that we are capable of showing the world how efficient we are. The latest Australian efforts are now well respected and appreciated by he United nations.

The young men who were conscripted during the Vietnam war, strongly believe nowadays that conscription is a necessity. They, former conscripts, and we the permanent and retired and military personnel are all proud to have been given the privilege and opportunity to serve our country.

What did you do at war? Which day of it do you remember most of all?

I was the Supply Officer of N9 Helicopter "gun ship" squadron of the Royal Australian Air Force, at the Vung Tao Air base. I went to Vietnam on 28th of April 1968, my rank was then of Flight Lieutenant (Captain). I was promoted to the rank of Squadron Leader (Major) on 1st January 1969 and came back from Vietnam on 29th April 1969.

I was responsible for acquiring spare parts which were required to keep the helicopters in operational readiness. I also had to ensure that weapons, flak vests, armor plates, ammunition and so on were readily available for our aircraft and squadron personnel.

Most of the equipment was supplied by the United States Forces and it was my duty to obtain the necessary items. At times, it was necessary to fly to other U.S. Air Bases to seek whatever the squadron urgently required. You had to have the right equipment at the right time. Delays were unacceptable. Sometimes, despite the fact that spare parts although ordered well in advance, were far too slow to arrive from U.S. Saigon Depot or were "lost" in transit. The Supply Officer had to have a Magician's Wand to be able to produce the right equipment at the right time.

Night and day rocket attacks, bombing, surface to air gun fire were the norm. As the saying goes, "you get accustomed to it all". Sandbag revetments were a popular place of abode be it during the day at the airfield or at night by the barracks. Sleep was scarce. Besides, sometimes it was necessary to work at night.

One early morning, I witnessed a direct hit during a rocket attack when an American underground aircraft fuel installation containing 350,000 gallons of aircraft fuel situated not too far from our hangar was hit by a rocket. Luckily we weren't blown up, but the fuel ignited and burned at the rate of 10,000 gallons per hour for 24 hours before it was extinguished. The squadron took part in evacuation of wounded from battlefields. Hercules aircraft were parked near our hangar, and Army buses drove wounded soldiers to them to evacuate them to Australia.

Do you have any battle awards?

I have only 5 Australian medals which are as follows:
Australian Active Service Medal 1945-1975 with Vietnam clasp
Australian Vietnam medal
Australian Defense Force service medal for efficient service
Australian National medal
Republic of Vietnam medal
Apart from it, early in 1960, when a French military aircraft landed in Richmond on a good will mission, the Commanding Officer of the French aircraft presented me with a silver medal depicting the French eagle emblem for my interpreter's services. (I can't wear it just as I can't wear the American one I got from Air transport Command in Shanghai).



Are you familiar with other Vietnam veterans – Australians of Russian descent?

No.

Just tell something what you want about the war.

I would like to mention a few light if not humorous episodes that I remember in order to obliterate the dark side of the ravages of the war.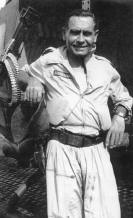 When I arrived at the Vung Tao air base in Vietnam, I had the rank of Flight Lieutenant (Captain in the Army). On my tropical hat I wore the American captain's insignia. One day, our chief Caterer who was a Warrant Officer, told me that it was very muddy around the kitchen area and asked me if we could get a few bags of cement. Our Air Force Warrant Officers wore golden eagles on their epaulettes. I glanced at his and had a bright idea. (I honestly don't remember what headgear he wore at the time, but I do remember the golden eagles on his epaulettes). I asked him to accompany me in my jeep as we headed towards the first American Supply depot that I could find. When we arrived, salutes came from all over the place, right, left and center. Since in the American Military Forces, eagle insignia are worn by Colonels, the U.S. troops at the depot thought that a captain brought a Colonel to their Depot. I asked the U.S. Sergeant if we could get some cement. Immediately he barked out his orders to his man: "Get the cement for the Colonel, on the double". I knew that a jeep can carry a fair load, so I didn't interrupt their activity. 15 minutes later, my jeep was fully laden with bags of cement more than enough to temporarily cover the muddy side around the kitchen area. As we left, the Sergeant bunged us a typical Yankee style smart salute. Needless to say that we thanked the sergeant for his generosity…
At night I use to lay out my uniform in such a way that during a rocket attack, in pitch darkness, I could get dressed within a minute or so and rush "on the double" towards the revetments...
Once, in the middle of the night, I heard someone or something crawl outside along the wall of my quarters. Then I heard someone say "Gene, I'm as sick as a dog. Please take me to the hospital." It was our Adjutant. I drove him to the American sick quarters where they jabbed a needle into his arm and said that he'll be O.K. Behold, about three weeks later, also late at night, I managed to drag myself into my jeep and drive to the same U.S. sick bay where they also gave me a needle and said that I'll be O.K. next morning. It must have been a magic remedy with a syringe being big enough to stun a horse. It was probably the shock of getting such harsh treatment that revived me…
Some of our squadron personnel, time permitting, used to help repair and renovate a Vietnamese orphanage run by French speaking nuns. They also build cots and beds for Vietnamese babies and infants. On a few occasions, I was called upon to act as an interpreter in that orphanage…
Our aircrew always had a few cans of leftover fruit juices which they didn't have time to consume because of operational commitments. So whenever it was necessary for us to fly to other U.S. air bases in search of aircraft spare parts that were urgently required, we used to take with us a selection of various Australian fruit juices which the Yanks loved very much. The barter system worked exceptionally well as invariably we used to return with the required spare parts plus one or two bullet holes under the fuselage for good measure…
Many a time, I would requisition flak vests and lead front and back armor plates, but somehow they would disappear somewhere between the U.S. Saigon depot and Vung Tao. The American supply system failed us now and then because of some unscrupulous men who intercepted the equipment that we ordered. So as not to have a shortage of protective gear and not to jeopardize the lives of our aircrew, I used to ask my sergeant to pass the word around the air base to various U.S. units, that we were prepared to offer a number of cans of our Aussie fruit juices in exchange for their flak vests and armor plates. Within half n hour, U.S. vehicles would park in font of our hangar and U.S. servicemen would bring the required protective gear in exchange for our promised "goodies". As they say "All is fair in love and war". We knew that they loved Aussie fruit juice…
I hate to admit that, but on one occasion we did "pinch" an aircraft spare part that was meant for delivery to one of the American units on the air base. It was a case of "Survive or perish" since one particular helicopter of ours just had to be in operational readiness the next day. However, in all fairness, once the identical part that we ordered weeks ago, had arrived from the normal supply channels, we immediately made the restitution to the rightful owner with apologies or the "alleged mix-up". We just had to do the right thing in terms of the code of honor. "Noblesse Oblige"…
Our senior NCOs, namely those who were of duty at the time, would organize a barbecue by the beach on a Sunday and sometimes, whenever I was free, I'd take the opportunity to drive to the beach from a swim. The beach was protected by a double row of barbed wire and invariably their would be several venomous dad water snakes hanging on the barricade – a reminder tat these creatures also were our enemy. Once I had the courage to hang on myself – a dead one, of course. To be truthful, I wasn't too keen to enter into the water all by myself, so I'd wait until a large group of swimmers would splash around and thus frighten the monsters away. Should Vietnamese fishing boats steer towards us, an Aussie Army machine gunner sitting upon an embankment, would open fire above our heads to disperse the boats away…
A good friend of mine with whom I completed the Officer's course at Rathmines in 1955, was stationed in Saigon in 1968/69 (he and I went to Vietnam in the same Quantas aircraft, sat next to one another on the way there and upon our return on 29 April 1969). He too was in the supply Branch and was responsible for the smooth operation of the supply system relative to all our units throughout Vietnam.
On one occasion, he came to our air base to determine the problems the Supply officers had in Vung Tao. I met him as he landed and immediately I noticed that he just wasn't himself. He seemed to be very agitated and just didn't look well. He told me that in Saigon, on his way to the airport, two young Vietnamese females on a motor scooter, threw against his vehicle what luckily turned out to be just a large paper packet containing some foul liquid which upon impact splashed him and the windscreen of his vehicle just as well it wasn't a hand grenade…
Several months later when I flew to Saigon to iron out some supply problems, I was met by a Sergeant at the airport who drove me to our Air Force HQ. On our way, he warned me if ordering drinks in Saigon shops or bars, not to ask for any ice as very often crushed glass was served instead. He also related a nasty experience he had the other day when he visited a bar in the city. No sooner had he entered the premises, when he heard someone yell "down, down, down". He said that he "hit" the floor quicker than most of the others. As it transpired, a passer by tossed a hand grenade through the open door. Fortunately, upon explosion, the grenade had caused only superficial injuries to some of the patrons and the damage to the premises was minimal…
On one of the occasions when it was my urn to be Orderly Officers of the RAAF component, at approximately 1.30 a.m., the Orderly Sergeant reported that two of our men had broken the curfew and were detained by the U.N. Military police miles away. Immediately we assembled a fully armed patrol wearing flak vests and drove off in a weapons carrier mounted with a machine gun. It was imperative that we rescue the two culprits from the clutches of M.P. As it became known, the two of them, having completed their tour of duty, were celebrating on the eve of their departure from Vietnam. Upon or safe return to the base, I reprimanded the pair and told them in no uncertain terms that it was my duty to record this incident in the Orderly Officer's log book. I told them (tong in cheek) that I'll be submitting my report at 9 p.m. (i.e. 3 hours after their departure). I knew that they appreciated my hint knowing well that I had to carry out my duty even though they would be high up in the air on their way home, immune from prosecution…


During my tour of duty, I had yet another nightly unpleasant experience. It so happened that we had several entertainers from Sydney who performed for our troops. A friend of mine, a fellow officer, who also had his own jeep, told me that we were asked to convey some of the entertainers to their hotels in the township. The two of us, e traveled together with the entertainers. Since we had to go to separate hotels, we agreed to meet one another at a designated spot. At that stage, I wasn't familiar with the locality. Somehow our rendezvous never took place, so I had to drive back to the base all by myself without anyone to guide me. I can assure you that traveling in pitch darkness, at 60/70 miles an hour, along unfamiliar and unfriendly surroundings towards the lights of our airfield which could be seen in the distance far away, was a somewhat daunting sensation particularly that my jeep already had one bullet hole when a shot was fired at my predecessor from an oncoming vehicle several weeks prior to my arrival missing my predecessor's stomach by just one cm. When I finally managed to reach our base, for some reason my shirt was wringing wet – must have been a hot night…
Recently, on 29 April 2001, I was introduced to a Russian man who lives in Sakhalin. He noticed my badge and asked me if I was in the military. I told him that I fought in Vietnam 1968/6. He said that he too was in Vietnam in 1968, but on the opposite side in our territory. He said that they were supplying rockets to Vet Cong and teaching them how to use them. I laughed and told him that he must have been the man who kept us awake practically every night. He also laughed and said that at least we didn't kill one another. He said that he was in Vietnam only 4 months because he was very seriously wounded and urgently sent to a hospital in Russia. I shook hands with my former enemy as we parted…